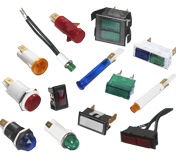 Representatives & Distributors
SOLICO has representatives and distributors throughout the United States, Canada, and Mexico. Please use the tools on this page to find a source for SOLICO products nearest you.
Carlton-Bates Company
7650 Caterpiller CT
Grand Rapids, MI 49548
www.carltonbates.com
616-241-3483
sales@carltonbates.com
Carlton-Bates Company
34443 Schoolcraft Rd
Livonia, MI 48150
www.carltonbates.com
734-525-1155
sales@carltonbates.com
Gopher Electronics Co
222 Little Canada Road
Saint Paul, MN 55117
www.gopherelectronics.com
800-592-9519
info@gopherelectronics.com
Hawk Electronics, Inc.
2150 East Lake Cook Road
Buffalo Grove, IL 60089
www.hawkusa.com
800-843-4295
contact@hawkusa.com
Hughes Peters
5333 Commerce Square Dr
Indianapolis, IN 46237
www.hughespeters.com
317-882-1188
insales@hughespeters.com
Marsh Electronics
3040 Riverside DR
#114
Columbus, OH 43221
www.marshelectronics.com
614-488-0002
Quist Electronics, Inc.
15153 Technology Drive
Eden Prairie, MN 55344
www.quistelectronics.com
952-448-6645
Spemco
23425 Harper Ave
St. Claires Shores, MI 48080
www.spemco.com
586-271-2700
katiea@spemco.com